Wakanda hacking challenge
Written on August 10, 2018
It's been a while since I've played with a VulnHub boot2root. Several new ones were recently pushed out, and having some free time on my hands, I decided to give Wakanda a go. This VM contains three flags and was listed as having an intermediate difficulty level. Challenge accepted!
I started off by using netdiscover to find the IP address of the VM, which turned out to be 192.168.56.102. A quick port scan returned two ports of interest; 80 and 3333:
Looks like SSH was running on port 3333 instead of the default 22. I didn't have any user credentials at this point, and I hate bruteforcing SSH, so I turned my attention to port 80. This was a web server: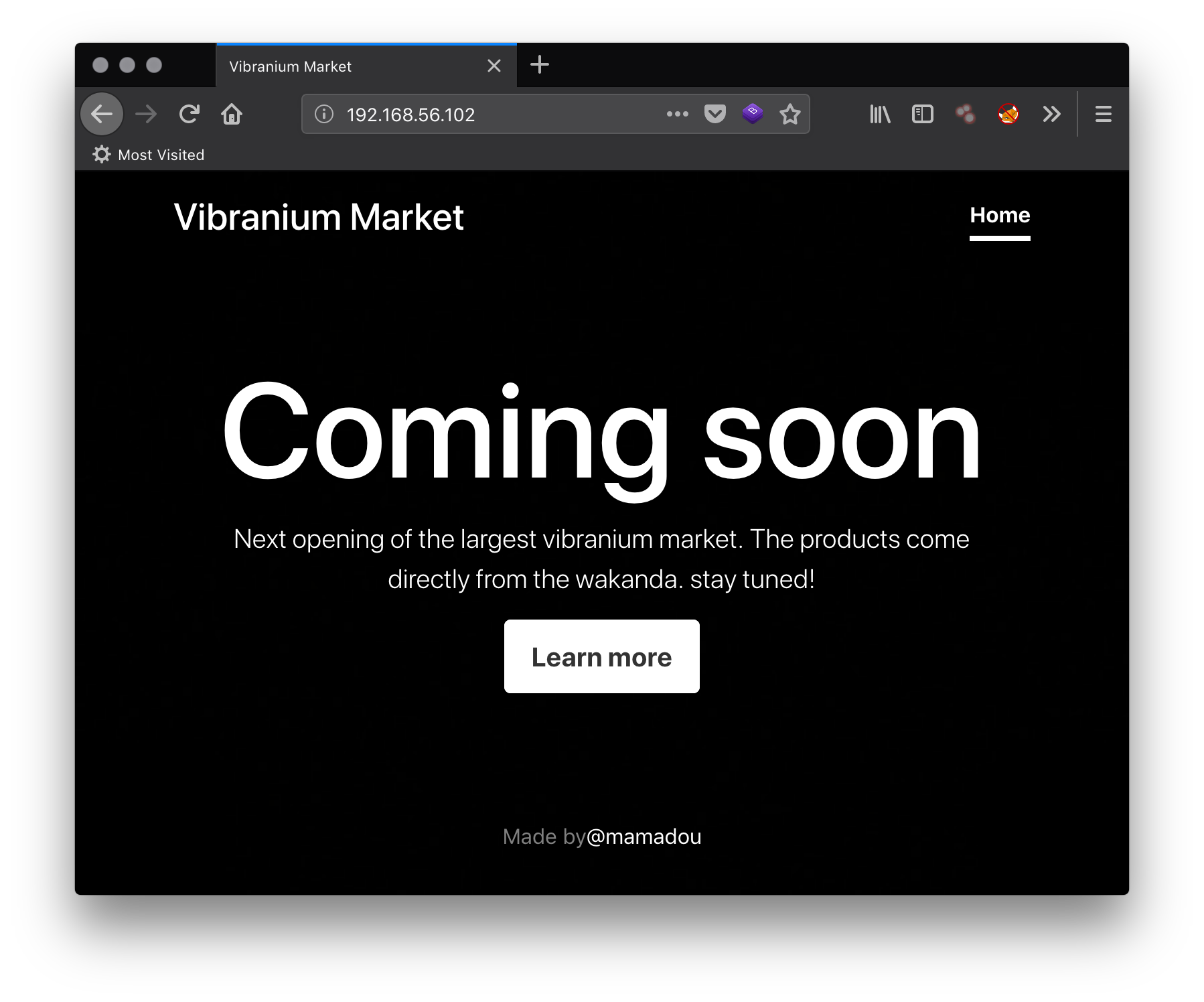 Right at the bottom, the author's name is listed: mamadou. Usernames are always handy to collect during enumeration.
I scanned the web server with Nikto to see if anything interesting came up:
No luck there. Next step was to look for any interesting files and directories being hosted. Plenty of tools for that, but these days I like gobuster so I let it search for html, php, js, and txt files:
Right off the bat it found several empty files. sercret.txt looked promising, but pulling it down revealed that it was just a troll. That left just index.php, so I went ahead and pulled it down. Here's the interesting part:
One of the lines has been commented out. From the looks of it, it uses the lang parameter to change the page's language. In this case, passing it fr changes the language to French. I figured fr probably corresponded to fr.php which was identified by gobuster. I gave it a shot and sure enough the language changes to French:
Since lang is reading the contents of a local file, I made the assumption that this was vulnerable to some kind of local file inclusion attack. I tried passing it variations of "../../../etc/passwd%00" but no luck there. So then I tried using php filters which turned out to be more promising. The contents of fr.php were returned Base-64 encoded, and decoding it revealed the contents of fr.php:
Great! The only other PHP file I was aware of at this time was index.php, so I decided to grab it and see if its contents could move me further into gaining a foothold into the system:
Ah a password! I already had a username, so I figured the two were credentials for logging into something. Since the only other service I found was SSH on port 3333, it made sense to give that a shot:
Success, kind of. Looks like it dropped me into a Python shell. No problem, that was easy to escape by spawning a shell on a pseudo-terminal:
The first flag was right there, owned by mamadou and so it was readble. Only two flags to go. Since the name of the flags were given in the challenge description I decided to just use the find command to look for it:
So a second user called devops exists. I quickly checked /etc/passwd and found that no other users (other than root) existed on the system. I started enumerating the system to look for any misconfigurations or any odd files that would allow me to privilege escalate to the devops user. Something finally came up when I decided to look for any files belonging to devops:
Couple of interesting files, /srv/.antivirus.py and /tmp/test. I looked at /srv/.antivirus.py and it contained this:
This Python script was world writable so I could modify it to execute whatever I wanted. However it wasn't SUID devops, so it would just run under the mamadou user. I looked at /tmp/test and that's when I noticed something interesting:
The timestamp that the /tmp/test was created was just two minutes ago from when I ran the date command. That led me to believe that /srv/.antivirus was being run on some kind of scheduler. I waited a few more minutes and checked again and noticed that /tmp/test had been updated:
That's a 5 minute difference since the last run. So it looks like the scheduler executes this Python script as the devops user every 5 minutes. At this point I had a game plan. I modified the .antivirus.py so that it would connect back to my machine and give me a reverse shell as the devops user when the scheduler executed the script
Next I started a netcat listener on my machine and waited. 5 minutes later, I got a shell as devops:
I could now get the second flag:
The next step was to privelage escalate to the root user to get root.txt; which I assumed was in /root. As it turns out, devops has sudo access:
So devops can run pip as the root user. That's different. I checked the permissions on /usr/bin/pip and sure enough, it was SUID root.
So how to get a root shell? pip can install a package from a local directory when the -e flag is passed to the install option. pip will look for a setup.py in the directory and execute that. So all I needed to do was create a setup.py that would give me a root shell. In this case, I decided to re-use the connect-back script in .antivirus.py and just changed the port number.
I started up another netcat listener to receive the root shell, and executed pip with sudo:
Success! The root.txt was now accessible, reading it netted me the final flag:
Wakanda forever!