Hades hacking challenge
Written on May 16, 2014
A few weeks ago, VulnHub hosted the Hades competition; a capture the flag challenge created by Lok_Sigma. Hades is touted as a difficult boot2root, requiring some experience in exploit writing and reverse engineering. The competition ran for a good 4 weeks, and with submissions now closed, I've decided to go ahead post my solution.
Looking for holes
I started off by running netdiscover in order to identify Hades' IP address. Since I was only running two virtual machines in the 172.16.229.0/24 network, it was easy to identify Hades:
Target acquired! Hades had been assigned the IP address 172.16.229.130. The next step was to scan for any open services that might be vulnerable to something. I busted out nmap and scanned the entire TCP port range:
Two open ports were discovered, SSH on port 22, and some unknown service on port 65535. I decided to check out port 65535 first using netcat:
It was some kind of service that was waiting for user input. I went ahead and played with it for a bit. The first two commands were acknowledged by the service with a "Got it". Any additional input was ignored, although the service never terminated the connection:
I spent a little bit of time trying different kinds of input to see if I could change its behavior or trigger some command injection. Nothing worked, so I moved on to port 22.
Port 22 is usually SSH, so I tried connecting to it using ssh as the root user.
A large block of text was immediately returned. I copied the first few characters "f0VMRgEBAQ" and entered it into Google. The results implied that the block of text was something that had been Base64 encoded.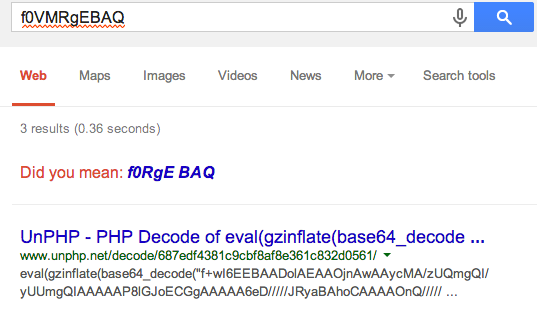 With that in mind, I copied the block of test into a file called "foo.txt" and used the base64 command to decode it and redirect the results into a file called "bar"
It generated no output, but it was definitely doing something since it didn't exit. Suspecting that this was the same service running on port 65535 on Hades, I attempted to connect to the same port on my machine:
Sure enough, my assumption was correct. I now had a local copy of the service for closer inspection, and I was betting that the keys to the kingdom were in there somewhere.
Pwning port 65535
This service requested that each command should be less than 121 characters each. I decided to see how it would handle 200 characters. On one terminal, I set ulimit for core files to unlimited and restarted bar.
Once the service was running, I sent 200 bytes to the service:
Sure enough, the service crashed with a segmentation fault and core dumped:
I loaded up the core file in gdb and examined the registers.
EIP and EBP had both been overwritten with 0x41414141, so I knew I could control the program's execution flow. Looking at the stack showed that I controlled a good chunk of it.
Unfortunately the area I controlled was 32 bytes away from ESP. I would need to find a way to remove at least 32 bytes from the stack and then jump to it so I could execute my shellcode. Before going any further, I needed to find EIP's offset. Metasploit's pattern_create.rb did the job:
I loaded up the new core file and it showed that EIP had been overwritten by 0x41376641
I controlled a decent portion of the stack for storing shellcode but that wouldn't do much good if the binary was compiled with NX. I ran checksec.sh against the binary:
No NX so I could definitely execute shellcode on the stack. However I still had to figure out how to jump to the shellcode, which was 32 bytes away from the stack. I decided to have a look at the instructions in the binary using objdump. I was interested in add or pop instructions that operated on ESP. I found one in particular that would add 28 bytes to ESP.
ADD $0x1C,%ESP would be perfect for removing 28 bytes. That meant i just needed a POP instruction to remove another 4 bytes and the top of the stack would contain my shellcode. As it turned out, this particular instruction happened to be followed by 4 POP instructions and a RET:
So this instruction would remove 44 bytes from the stack, which would still return to an area I controlled. After executing RET, this would set EIP to the next address on the stack. This address should ideally point to a JMP ESP instruction. Using msfelfscan I was able to find one such address in the binary:
To exploit this program, EIP needed to be overwritten with 0x08048a32, which would clear the stack. That series of instructions ends with a RET, which would set EIP to an address pointing to a JMP ESP. This in turn would begin executing the shellcode. I started the PoC with the following:
I restarted the service, attached gdb to it, and set a breakpoint at 0x08048a32.
I executed the PoC which in turn overwrote EIP and redirected execution to 0x08048a32. At this point gdb paused. Examining the next 6 instructions in EIP showed I was in the right location.
The first five instructions would clear the top of the stack, so I stepped through them. Before executing the RET, I looked at the stack:
The top of the stack contained the address 0x08048697, which pointed to a JMP ESP instruction. After that executed, EIP would be pointing to the top of the stack right at the start of my shellcode.
The following shellcode from http://repo-shell-storm.org will bind a shell on port 11111/TCP
At this point, I completed the PoC as follows:
I restarted the service, ran the exploit, and used netstat to verify that port 11111 had been opened:
I fired up netcat and connected to port 11111 and obtained a shell.
Confident that I had a working exploit, I updated the code to target 172.16.229.130. I ran the exploit once again, and used netcat to connect to port 11111 on 172.16.229.130
I now had a foothold on the server as user loki. Now I had to escalate to a root shell get that flag.
Getting a root shell
Before going any further, I decided to setup a passwordless SSH login into the server. By copying my SSH public key over to loki's account, I could login with SSH and get a proper interactive shell. On Hades:
I went ahead and killed the netcat connection and logged in to Hades directly as loki.
I listed the contents of loki's home directory and found a couple of interesting files: loki_server and notes.
loki_server seemed to be the same service I just exploited. The contents of notes appeared to be hints of some sort:
I kept note of that knowing that it would probably come in handy later.
I didn't have permissions to view the contents of /root just yet so I did a bit of exploring on the server. Eventually I found a couple of things that looked interesting: /root/key_file and /root/display_root_ssh_key. I didn't have read permissions on /root/key_file, so I decided to look into /root/display_root_ssh_key instead.
This looked promising. display_key had SUID root permissions, so if I could make it launch a shell for me, I could get root privileges. There was another file, counter, but alas I had no read access to its contents. I went ahead and executed display_key to see what it did.
For some reason the machine rebooted the second time I ran the program. I figured this must be some kind of countermeasure to prevent automated fuzzing, or just to annoy the attacker. After Hades had restarted, I decided to copy display_key over to my machine and examine it there.
The file command reported it as a static stripped executable, meaning debugging this would be difficult.
Before examining the file further, I removed /sbin/reboot on my machine and replaced it with a symbolic link to /bin/hostname. If display_root was calling the reboot command, this would prevent my machine from rebooting.
With some precuations in place, I ran the program again.
It was odd that it crashed immediately, which was different from how it behaved on Hades. I tried running it with gdb but it wasn't very informative, so I decided to use strace instead. I ran display_key against it and found the reason for the crash:
The counter file was missing. I went ahead and created it to see what would happen. Since I couldn't read the actual counter file, I just threw in some random value in it.
Ok, much better. The program opens the counter file to change its contents, but for what purpose, I didn't know. I ran the program again until it triggered its reboot feature. This is the interesting bit that caught my eye:
The program calls reboot without specifying an absolute PATH. This meant I could trick it into running my own code as long as it was in a directory before /sbin. I created a reboot symbolic link to /bin/dash in my home directory and updated my PATH variable so that my home directory was first on the list.
Once that was done, I ran display_root again until it triggered its call to reboot, and gave me a shell instead:
Could it be that simple? I decided to try it on Hades and see if it would work. I created the same setup as I had done on my machine so that I had a symbolic link reboot to /bin/dash and updated my PATH so that my symbolic link to /bin/dash would be called instead of /sbin/reboot:
Fingers crossed, I executed display_key several times until the reboot feature was triggered:
Yes! Sure enough, the program called reboot, but instead executed /home/loki/reboot which in turn dropped me into a root shell.
Capturing the flag
I quickly headed over to /root and did a directory listing.
I found the flag, but it was encrypted. The challenge wasn't over yet. The file command wasn't available on Hades, but using xxd, I recognized the header as a file encrypted with the openssl command:
I remembered the file /home/loki/notes that mentioned "AES 256 CBC" and "Good for you and good for me.". Assuming that was the cipher and password used to encrypt the file I gave it a shot:
Unfortunately that didn't work. I then remembered /key_file. Now that I had root access I could read the contents. This turned out to be a binary file and I couldn't see anything recognizable in it:
I wondered if this file might have been used to encrypt the flag. OpenSSL can take the password from either a string, a file descriptor, an environment varible, or a file, so it was worth a shot.
No error message! It looked like the decryption worked. I opened flag.txt and was congratulated for finishing the challenge.
Final thoughts
I suspect there's more than one way to get root on the server. Further analysis of the display_key binary showed that it was vulnerable to a buffer overflow that allowed me to overwrite EIP. The display_key was compiled with NX, so it looks like a little creativity will be required to exploit it. That should give me something to work on until the next challenge.
Overall this was a thoroughly enjoyable boot2root. I look forward to the next challenge. Many thanks to Lok_Sigma and VulnHub, and shout outs to barrebas and TheColonial who were always one step ahead of me in the competition.